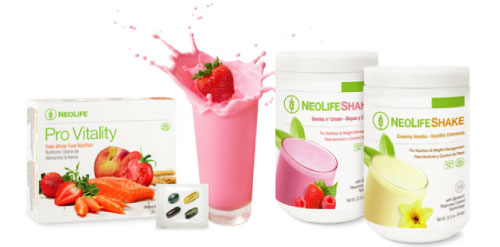 and postpartum
Great For Pregnancy
Take Pro Vitality with any meal. The shakes make excellent snacks to provide the complete protein needed for your developing baby. They also make an ideal and fast meal replacement for you when you're up nursing at night once baby arrives. 
NeoLife Shake
✔Proprietary blend of 18 grams of high quality protein
✔5 grams of satisfying fiber
✔Biologically complete with all 22 amino acids
✔25 vitamins and minerals
✔No artificial anything
✔Only 140 calories
✔Gluten free
Pro Vitality Pack
Each packet provides
✔Tre-en-en ® Grain Concentrates - Feed your cells, enhance your energy.
✔Carotenoid Complex ™ -Protect your cells, optimize your immunity.
✔Omega-III Salmon Oil Plus ™ - Balance and regulate your cells, maximize your good health
✔Essential Vitamin & Mineral Complex - Nourish your cells, more than just a multi